Harper, vocalist
The soothing tones of the harp have long been considered magical and many have found it to be a salve for the soul. Margie Butler makes this more than evident on her recordings;
Celtic Lullaby, The Magic of the Celtic Harp, vol. I and
The Magic of the Celtic Harp, vol II,
Lure of the Sea Maiden.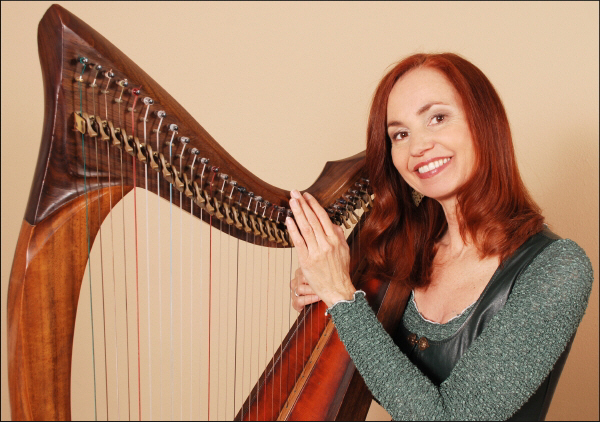 Photo: Irene Young
On her recordings, Margie performs songs and instrumental pieces from the Celtic lands of
Ireland, Scotland, Wales, The Isle of Man
and French Brittany.
Margie can also be heard as a guest musician
on the Linda Ronstadt recording,
Dedicated to the One I Love.
Of Margies's 3rd CD, Derek Bell of
The Chieftains had this to say:
"Unbelievably refreshing ... all played so well.
Like a breath of fresh air, very, very welcome."
Margie Butler
Contact Margie
The harps that Margie plays are based on the ancient
harps of the Celtic lands. These harps were carried by
the harpers throughout the countryside, bringing music
and tales to the people. In much the same manner,
Margie tours worldwide with Golden Bough, bringing
this music to the modern audience. Included in her CD
and concert repertoire are pieces from the renowned
Irish harper, Turlough O'Carolan; who combined the traditional music of his country with the Baroque music
that was popular during his time. She also sings many
of the old ballads and tales set to music, as well as
providing her own compositions to her harp CDs.
An ancient Irish legend tells of the magical harp Uaithne, who gave birth to three children
symbolizing the three types of music played on the harp. With the birth of the first child, Goltrai, she played the song of weeping. As Geantrai,
the second child was born, she played a tune of
joy and laughter. Upon the birth of the third child, Suantrai, Uathne was tired and so played the
lullaby to soothe herself and the children to sleep. Featuring vocal and instrumental pieces from Ireland and Scotland, and using the natural musical settings
of the Celtic harp, these magical forms are brought
to life by Margie Butler.
(From the CD Celtic Lullaby)

Teacher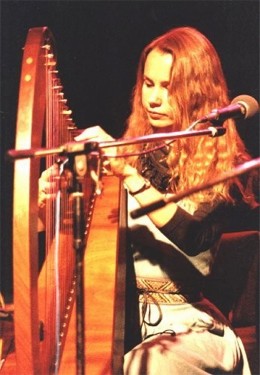 Fylde Folk Festival, England (1986)
Photo: Roger Liptrot
Harp Lessons
Are you interested in
learning to play the harp?
Margie teaches out of her studio
in Modesto, CA, but she also
offers lessons in Pacifica, CA
and in Northern Oregon.
However, since Golden Bough travels to different areas, contact Margie and she may be able to arrange a lesson or two in your
area whenever she is on tour there. Contact Margie at margie@goldenboughmusic.com
or at (209) 572-1715 or
(503) 843-8152.